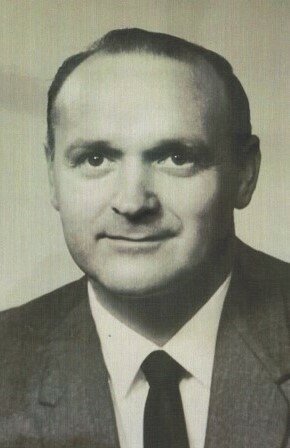 Obituary of Richard W. Withers
Richard W. Withers, 91, former Mayor of Blue Island and United States Army veteran, passed peacefully from this life Friday, January 13, 2023.
Richard is the beloved husband of Shirley nee Faden. The couple were united in marriage for sixty-eight years. He is the loving father of Gary (Lori) Withers and Linda (Doug) Ackerson. Richard is the devoted grandfather of Beverly, Drew and Amelia and the proud great grandfather of Oliver. He is the dear brother of Robert Jr. (the late Violet) Withers and Susan (Bill) Boyd. Dick leaves many other family members and friends to cherish his memory.
Richard was born June 12, 1931 in Blue Island to the late Leone nee Heintz and the late Robert Withers Sr. Dick attended local grade schools and Blue Island High School where he was on the football team with Bob Sinise, father of actor Gary Sinise. He attended the University of Illinois for one year, then he enlisted in the Army serving in the Korean War. After returning from the war, Richard was employed by Argonne National Laboratory building nuclear reactor panels and working in the nuclear testing department.
A man who loved his country and his city, Dick continued his dedication by running for Mayor of the City of Blue Island. He served from April 1965 until May of 1977. During his tenure, Dick made it his goal to make Blue Island a great place to grow up and live in. One of many accomplishments was when Bob Hope came to Blue Island to perform in the 1976 4th of July bi-centennial celebration. His political career led him to work with former Mayor of Chicago, Richard J. Daley, former Governor of Illinois, Richard Ogilvie and Presidents of the United States, George H. Bush and Gerald Ford.
In 1979, in his basement, Dick founded a lighting company, Wiko/Eiko. This company soon went global, allowing him to travel the world and make many friends outside of the USA.
Dick lived in Kansas City for a few years and soon became close friends with Jim Sheedy. At a local establishment, Bogey's Bar, these gentlemen soon gained a title, Jim being the Mayor of Bogey's & Dick the "Real Mayor of Bogey's" !
Living his life to the fullest, Dick experienced seeing both the Cubs and White Sox win the World Series, the Bulls win six NBA Championships, the Blackhawks win three Stanley Cups and the Bears win the Superbowl !
Dick will be remembered as a man who loved spending time with his family and friends. He told countless stories, especially those of his Walleye fishing days in Minnesota.
Interment will take place at First Ev. Lutheran Cemetery in Alsip.
Share Your Memory of
Richard