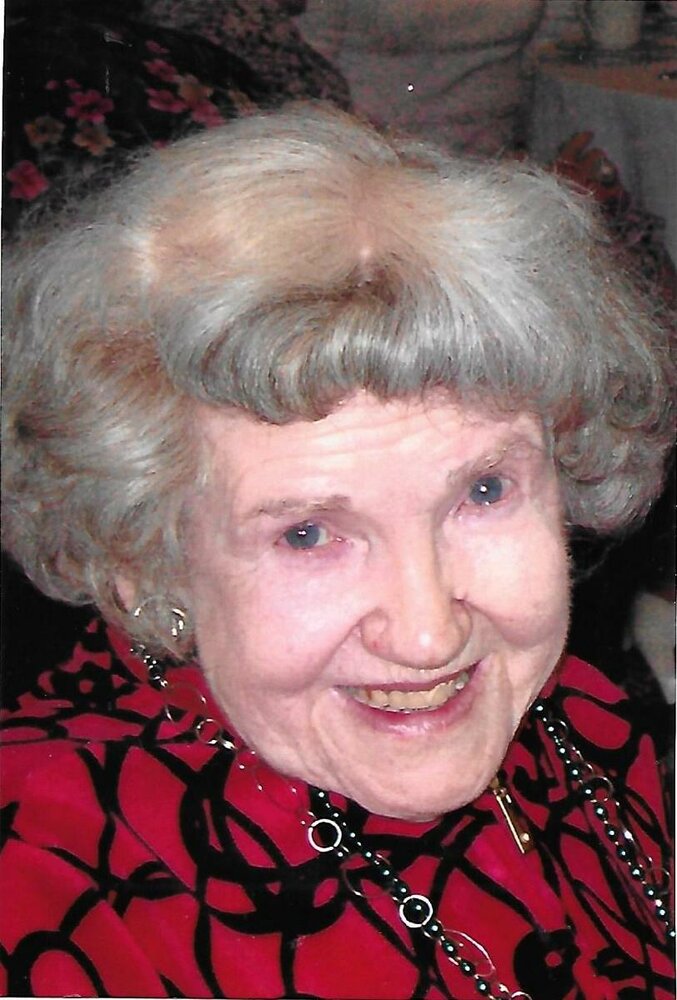 Obituary of Mary N. McDowell
"Well done, good and faithful servant! You were faithful over a few things; I will set you over many things. Enter into the joy of your Master!'
Mary N. McDowell, 99, lifelong resident of Blue Island, passed peacefully from this life Sunday, September 11, 2022. She was just three months away from celebrating her 100th Birthday.
Mary was born December 12, 1922 in Blue Island to the late Elizabeth nee Conlan, and the late Walter F. McDowell. She attended and graduated from St. Benedict Grade School. Mary then went on to Academy of Our Lady High School, which was located on 95Th and Throop in Chicago. She began her career as a secretary in 1941 working at Fred Harvey until 1947, then for E.F. Hutton until 1952. In 1952 she continued in her career at the Rock Island Railroad, retiring in 1983 with more than thirty years of service. Mary began volunteering at St. Francis Hospital in 1982 and received much recognition for her service.
Mary will be remembered as a kind, compassionate, loving woman. She was a humble person, never holding a grudge or speaking ill of anyone. She believed in the goodness of all God's people. Mary loved her family and friends dearly. She enjoyed spending time with them, celebrating holidays and creating special memories. Among her favorite places to visit were the racetrack and the casino riverboat! Mary found enjoyment watching television shows, some of her favorites being MASH, The Andy Griffith Show and Gomer Pyle. Mary found pleasure sharing a meal with her friends at DeMars, relaxing and exchanging stories. She loved her town and was so very proud to be a member of the community. Mary was also one of the most devoted Cubs fans, and was so happy to live long enough to watch them win the World Series!
Mary was born on the Feast Day of Our Lady of Guadalupe, which is why her mother chose this special name for her. Her dedication to the Catholic faith was rooted deep in her soul. Mary began each day praying the rosary and lifting up those in need. If she was unable to attend Mass in person, you would find her watching Mass on television or listening on the radio. She was a faithful member of St. Benedict Parish where she taught CCD classes for 50 years, and served with the Women's Club. Her church family meant everything to her. Mary made numerous friendships within her church community; however, she had a special closeness with her dear friends Christine Valle and Mary Origal.
Mary was the loving sister of the late John (Mary Jo and the late Sharon) McDowell. She is the cherished aunt of Karen McDowell, John (Kate) McDowell, the late Brian McDowell, Kim (Jeff) Casper, and Heather (Eric) Borrowman and the devoted great aunt of five, Michael McDowell, McKenzie and Wyatt Casper, and Jackson and Lincoln Borrowman. Mary leaves numerous friends to cherish her memory.
A Memorial Visitation for Mary will be held Wednesday, September 28, 2022 from 9:30 am until the time of Memorial Mass at 10:30 am at St. Mary Magdalene Parish (formerly St. Benedict Church) 2339 York St., Blue Island.
If you would like to contribute in Mary's memory, donations may be directed to Poor Clare Monastery, 12210 S. Will Cook Rd., Palos Park, IL 60464 www.chicagopoorclares.org
Share Your Memory of
Mary