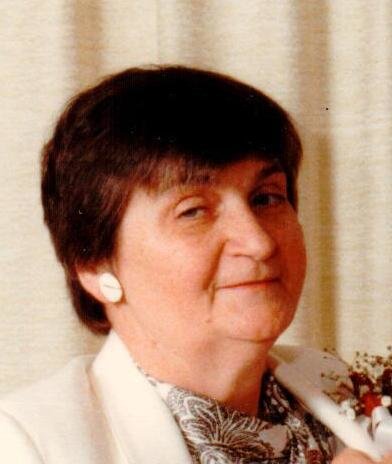 Obituary of Marilyn E. Ferrin
Marilyn E. Ferrin nee Robinson, 86, of Blue Island, passed from this life Friday, November 1, 2019.
Marilyn was the beloved wife of the late Clifford M. Ferrin. She is the loving mother of Jacqueline (Frank) Stawiarski, Daniel (Marjorie) Ferrin, Jeffrey (Kathy) Ferrin, David (Cindy) Ferrin and Barry (Jennifer) Ferrin Marilyn is the cherished grandmother of Jeffrey, Jennifer, Matthew, Christine, Michael, Sarah, Jessica, Cassandra, Patricia, Theresa, Nathaniel, Deborah, Valerie, Nicholas, Bridget and Christopher, proud great grandmother of Delilah, Jordin, Avery, Gabriella, Claire and Jack She is the dear sister of Thomas (Cindy) Robinson, the late Bruce (Donna) Robinson and Diane (Jeff) Watson and the fond sister in law of Gene Ferrin. Marilyn is the adored aunt of many nieces and nephews.
Marilyn was born April 21, 1933 at St. Francis Hospital to the late Olive nee Roulo and the late Thomas Franklin Robinson Sr. She was a lifelong resident of Blue Island, and proud of her town. Marilyn was a member of the Blue Island Historical Society Preservation Committee. She was an officer in the Worth Township Republican Organization, an Election Judge for over forty years and served on the Selective Service Board. Marilyn was a Den Mother for Boy Scout Troop 4787 and also volunteered as a Reading Buddy for Blue Island School District 130. She had been employed by Klines Department Store as a retail stock clerk. Marilyn liked to garden and knit, but above all, she cherished special moments with her family. She attended many sporting events and school activities with both her children and grandchildren. Marilyn leaves many family members and dear friends to cherish her memory.
Visitation for Marilyn will be held Thursday, November 7, 2019 from 3:00 pm to 8:00 pm. Chapel services will begin Friday, at 9:15 am at the Krueger Funeral Home, 13050 S. Greenwood Ave., Blue Island, then to St. Benedict Church, 2339 York St., Blue Island, for mass at 10:00 am. Interment will take place at St. Benedict Cemetery, Crestwood.