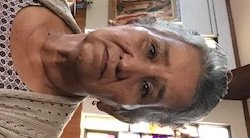 Obituary of Angelina Arteaga
Angelina Arteaga Antolin, 64, of Ecuandureo, Michoacan, Mexico, passed from this life Monday, November 19, 2018. She was the beloved wife of the late Luis Antolin. Angelina is the loving mother of Griselda Antolin, Rafael Antolin, Jesus Antolin, Sandra Antolin, Sylvia Antolin, Martha Antolin, Maria Del Carmen Antolin, Juanita Antolin and Rosita Antolin. She is the dear sister of Martha Arteaga, Alfredo Arteaga, Alfonso Arteaga and Maria Elena Arteago.
Visitation for Angelina will be held Sunday, November 25, 2018 from 3:00 pm until 8:00 pm at the Krueger Funeral Home, 13050 S. Greenwood Ave., Blue Island. Interment will take place in Mexico.