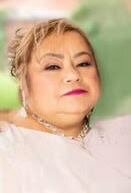 Obituary of Elsa Arriaga
Elsa Arriaga Nieves of Blue Island, passed from this life Monday, October 23, 2023 at the age of sixty-three.
Elsa is the beloved wife of Jose Luis Arriaga, the couple were united in marriage on March 3, 1983. She is the loving mother of Esmeralda (Mark) Magierski, Christina Arriaga and George Arriaga. Elsa is the cherished grandmother of Noah Jimenez Arriaga, Benjamin Jimenez Arriaga, Ava Magierski and Mason Magierski. She is the dear sister of Elva (Arturo) Aguilar, Virgilio (Georgina) Nieves, Miroslava De Paz, Jorge Nieves, Yolanda (Ramiro) Esparza, the late Jaime Nieves, Humberto (Maribel) Nieves and Roberto Nieves (Margarita Reyes). She leaves numerous other family members and friends to cherish her memory.
Elsa was born December 25, 1959 in Estancia de Animas, Zacatecas, Mexico to the late Salvador Nieves and the late Gilda Nieves Arellano. She was devoted to her family and provided a warm and welcoming home. Elsa liked to spend her time gardening and cooking meals for her friends and family, but her greatest joy was caring for her grandchildren.
Visitation for Elsa will be held Thursday, November 2, 2023 from 3:00 pm until 8:00 pm. Chapel prayers will begin Friday at 9:15 am at the Krueger Funeral Home, 13050 S. Greenwood Ave., Blue Island, then to St. Donatus Church, 1939 Union St., Blue Island for mass at 10:00 am. Interment will take place at St. Casimir Cemetery in Chicago.