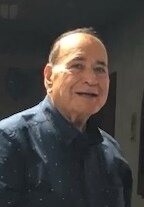 Obituary of Benedicto G. Tinajero
Benedicto G Tinajero passed on Sunday, October 22, 2023 surrounded by the warmth of his loving family. Benny was born on July 5, 1932 in Michoacán, Mexico, the last born child of Rafaela and Benedicto Tinajero. He was a joyful charismatic soul, proud of his Mexican heritage, loved to sing and dance, tell stories and jokes, his light captivated any room he walked into. He was passionate about his family, his duties, and his word.
Benedicto first stepped foot in this country as a Bracero (migrant farm worker). After working severely underpaid jobs in Mexico City, and having to support his wife and children, Benny sought more out of life. He aspired to achieve the American Dream for his family. Benny then returned to the U.S. in 1968, as a legal resident and established his family's roots in South Chicago. In just two years, after many sacrifices, he legally sponsored his wife and 4 children (at the time) to enter and remain in the U.S. as residents. Years later, they all would become U.S. citizens.
Benedicto was a proud union man, he retired twice: 20 years with Teamsters Local 727 working for 7 Up Beverages and 7 years as a Machinist with IAM at Tuthill Pump. His resilience and strong work ethic allowed his legacy to stretch far beyond his wildest dreams. He owned two homes, raised 8 children, applauded his children in their union careers, seen a daughter and grandchildren attend/graduate from college, and lastly; championed his grandchildren and great grandchildren to serve our country.
Benny lived a true love story, he was married to his best friend for 63 years who he is survived by, Maria Elena Tinajero. He is at rest in eternal glory alongside his deceased children: Jose Juan, Maria Elena, and Jaime Tinajero. He is also survived by his
Children: Ricardo (Beverly)Tinajero, Lourdes (Hugo)Tinajero, Benedicto (Leticia)Tinajero, Carlos (Juanita)Tinajero, Veronica (Joseph)Tinajero, Niece: Carmen Tinajero.
Grandchildren: James (Jennifer) Ferenczy, Zsa Zsa Allen, Ricardo A. Tinajero, Beverly L. (Joseph)Tinajero, Kristina (Jessie)Tinajero, Krystal Gil, Enrique (Salina) Gil, Diana (Alex) Gil,Hugo Gil, Jr., Reno Guzman, Simone Guzman, Mia Tinajero, Savannah Tischina, Xavier Tischina.
Great Grandchildren: Elena (Trevor) Turk, Michael Mueller, Isabella Tinajero, Justin Ferenczy, Gabriella Allen, Jaden Martinez, Isaac Gil, Eilyana Gil.
Visitation for Benedicto will be held Friday, October 27, 2023 from 3:00 pm until 8:00 pm. Chapel prayers will begin Saturday at 9:15 am at Krueger Funeral Home, 13050 S. Greenwood Ave., Blue Island, then to St. Donatus Church, 1939 Union St., Blue Island, for mass at 10:00 am. Interment will take place at Holy Cross Cemetery in Calumet City.
Share Your Memory of
Benedicto