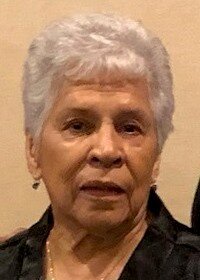 Obituary of Julie M. Vasquez
Julie M. Vasquez nee Granados, 94, formerly of Blue Island, beloved wife of the late Pete C. Vasquez, who passed away May 2, 2014. Loving mother of Carlos
(Sue) Vasquez, Imelda Vasquez, Peter (Anne) Vasquez, David Vasquez, and the late Patricia Inman, devoted grandmother of Jennifer, Anisa (Brandon), Daniel (Sandy), Matthew (Chloe), April (Jason), Alison (Chris), Dennis, Emily, Stevie (Lisa) and Jeremy (Cassidy), proud great grandmother of Camden, Davin, Ean, Fiora, Izabel, Haven, Madelyn, Riley, Joe, Michael, Gio, Melody, Leonidas, McKenzie, Jackson, Archer, Haley, Stephen, Marie and Finn. Dear sister of Ray, Sally, Carmen, Lulu, Hope, Rick and the late Felice, Mike, Juanita, Frank and Robert.
Julie was born April 18, 1929 in Ottawa, IL to the late Frank Granados and the late Santos Aguilar. She attended beauty school in Chicago and then relocated to Blue Island in 1952 when she married Pete. Julie was a gifted hairstylist and was formerly employed at Christine's Beauty Shop of Chicago and Haircrafters of Lansing.
Visitation for Julie will take place Monday, October 23, 2023 from 3:00 pm until 8:00 pm. Chapel prayers will begin Tuesday at 9:15 am at the Krueger Funeral Home, 13050 S. Greenwood Ave., Blue Island, then to St. Benedict Church/St. Mary Magdalene Parish for mass at 10:00 am. Interment will be held at St. Benedict Cemetery in Crestwood.