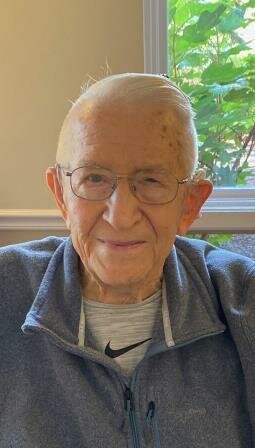 Obituary of Werner R. Luenser
"God grant that I may fish until my dying day, and when it comes to my last cast I then most humbly pray, when in the Lord's soft landing net I'm peacefully asleep. That in His mercy I be judged good enough to keep."
Werner R. Luenser, 100, of Palos Park, formerly of Blue Island, was called home to be with his Lord and Savior on August 27, 2023. He was born on December 6, 1922, to Herman and Minnie Thun Luenser, now both deceased.
Werner was the beloved husband of Esther Woike Luenser, whom he married in 1949 and who died in 2020. He was the loving father of Carl, Susan (John Brtis) Luenser, Nancy (Robert) Calabrese, and Jean (Donald) Horner. He was the cherished grandfather of Alex (Sara) Scott, and proud great grandfather of Stan and Harvey. Werner out lived his sisters and their spouses, Clara (Howard) Blume and Margaret (William Gunnarson) and his brother Richard Luenser.
Werner was a graduate of First Evangelical Lutheran School and Blue Island Community High School. He attended several semesters at Illinois Institute of Technology, studying mechanical engineering.
Werner contributed significant free time to the congregation of First Evangelical Lutheran Church in Blue Island, serving on the church's board, as well as on the First Lutheran School board. He was also on the First Lutheran Church cemetery board. Werner and Esther together served on the church's Evangelism Committee.
Werner was employed as a machinist before World War II at E.B. Bronson. He served in the Navy SeaBees (CBMU 545) from 1942 until 1945, deploying to New Guinea. Soon after the war he was hired by Formold Plastics as a mold maker. He was promoted to both managerial and technical positions, continuing his employment when Ethyl Corporation purchased Formold.
His last position at Ethyl Corporation was as a Development Engineer in the New Product Development Group, during which time he was assigned four U.S. patents describing unique designs for molded thermoplastic threaded bottle caps for pressurized beverages, such as carbonated beverages.
Werner traveled internationally for Ethyl Corporation as the "hands-on" design expert on closure quality and safety, implementing the introduction of Ethyl's plastic bottle cap to Coca-Cola bottling lines.
After his retirement from Ethyl Corp., Werner continued consulting, doing design and model making in his basement tool shop. In the last decade of his life, he considered himself fortunate to be able to provide pro bono manufacturing advice to a local company.
In retirement he taught himself how to make violins, producing several of impressive sound quality. Fishing was his favorite leisure activity. As a teen, he had the opportunity to catch trout in the Yellowstone River. Fishing travel with various family and friends took him to Wisconsin, Minnesota, Florida, and Canada. He also spent many seasons fishing in Lake Michigan for coho salmon.
Living the last decade of his life at Peace Village provided easy access to a pond with catfish. Werner could be found at his favorite spot along the shore, sitting on the chair of his walker with his fishing pole in hand, ready to set the hook once a fish took the bait.
Watching the pond from his apartment window, Werner enjoyed his front row seat to wild animal activity, including wading great blue herons, turtles sunning on logs, and swimming families of ducks or geese with their young.
Visitation will be held at the Krueger Funeral Home, 13050 S. Greenwood Ave., Blue Island on Thursday, August 31, 2023 from 3:00 p.m. until 8:00 p.m. The funeral will take place at First Ev. Lutheran Church, 2519 Grove Street, Blue Island on Friday, September 1, 2023. Werner will lie in state from 10:00 am until the time of service at 11:00 a.m. Burial at First Lutheran Cemetery, Alsip will follow after the service.
Memorial donations may be directed to First Ev. Lutheran Church, 2519 Grove Street, Blue Island, IL 60406
Share Your Memory of
Werner