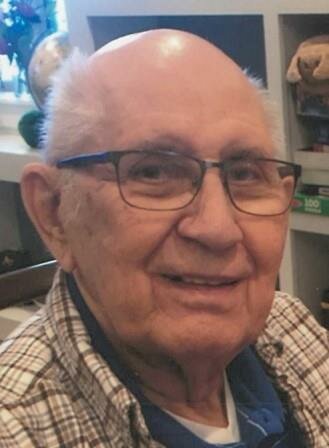 Obituary of Louis W. Reiher
Louis W. Reiher, 92, of Tinley Park, formerly of Blue Island, passed from this life Sunday, July 2, 2023. Louis was the beloved husband of the late Jeannette P. nee Streck. The couple were united in marriage July 23, 1955. He is the loving father of Jeff (Kelly) Reiher, Jim (Pam) Reiher and Caryn (Steve) Marten. Louis is the devoted grandfather of Haley (Casey) Tiemersma, Cooper, Stephani (Matt) Miller, Tom (Amanda), Kevin (Danielle), Rachel (Nick) Jantz, Erin (Alex) Gerkin, Adam, Eric, Aidan and Brian (Brittany) Largent and the proud great grandfather of Brielle, Brenner, Quinn, Macklin, Cora, Hudson and Marty. He is the dear brother of the late Edward, Norman and Bernice.
Louis was born July 27, 1930, in Blue Island to Amelia nee Engelhardt and Louis C. Reiher. He was a lifetime member of Salem Ev. Lutheran Church and was formerly employed by Nicor for over thirty years. Louis was a veteran of the United States Army. He was a life long Cubs fan.
Visitation for Louis will be held Saturday, July 8, 2023, from 9:00 am until the time of service at 11:00 am at Salem Ev. Lutheran Church, 12951 S. Maple Ave., Blue Island. Interment will take place at Trinity Ev. Lutheran Cemetery, Tinley Park. In lieu of flowers, memorial donations may be directed to Salem Ev. Lutheran Church or The Alzheimers Association.
Share Your Memory of
Louis