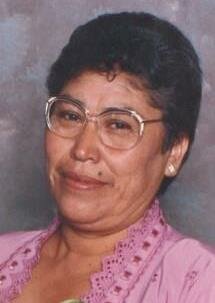 Obituary of Valvina Saucedo
Valvina Saucedo nee Nieves, 81, of Blue Island, passed from this life Monday, June 26, 2023.
Valvina was the beloved wife of the late Regino Saucedo. She is the loving mother of Ruben (Maria Luisa) Saucedo, Victor Saucedo, Anailda (Miguel) Vazquez, Regino Jr. Saucedo, Eloy (Alma Delia) Saucedo, William (Martina) Saucedo, the late Villaldo (Maricela) Saucedo and Carlodina (Cesar) Mireles. She is the adoring grandmother of Crystal Saucedo, Cervando Saucedo, Victoria Saucedo, Melissa Saucedo, Erica Saucedo, Angelica Saucedo, Cynthia Saucedo, Alejandro Saucedo, Gabriela Saucedo, Miguel Angel Saucedo, Leonel Saucedo, Valerie Saucedo, Selena Saucedo, Uriel Saucedo, the late Regino Saucedo III, Esmeralda Saucedo, Lesly Saucedo, Clarisa (Anahi) Esparza, Melissa Esparza, Meily Saucedo, and William Adan Saucedo. Valvina is the cherished great grandmother of Yvonne Roman, Jaime Reyes Jr., Robert Roman Jr., Benicio Ruben Saucedo, Efrain Diaz, Emilio Roman, Audrina Cajero, Benjamin Rodriguez, Nathan Rodriguez, Julissa Amor Rodriguez, Stephen Castillo, Romeo Saucedo, Iliana Saucedo, Idalie Saucedo, Maximiliano Martinez, Sebastian Torres, Josue Saucedo, Deangelo Saucedo, Leo Martinez, Aless Torres and Ismail Ocasio.
Valvina was devoted to her family and enjoyed preparing delicious meals for them. She also liked to spend her time gardening and knitting.
Visitation for Valvina will be held Sunday, July 2, 2023 from 2:00 pm to 7:00 pm. Chapel prayers will begin Monday at 9:15 am, at the Krueger Funeral Home, 13050 S. Greenwood Ave., Blue Island, then to St. Donatus Catholic Church 1939 Union Street, Blue Island, for mass at 10:00 am. Interment will take place at St. Benedict Cemetery, Crestwood.