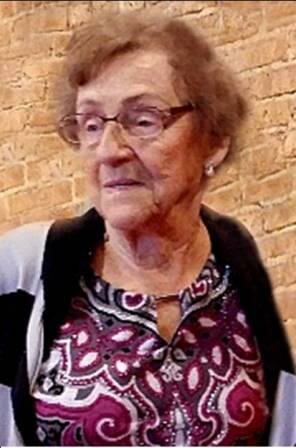 Obituary of Josephine Wiles
Josephine Wiles nee Mattillion, of Blue Island, passed from this life June 6, 2023, peacefully surrounded by her loved ones.
Josephine was born December 23, 1927, in Chicago to the late Andrew and Nettie Mattillion. She was the beloved wife of the late Veteran Edward R. Wiles who passed away August 29, 1994. Josephine is the loving mother of Sharon (Terry) Timmerman, Elmer (Donna) Belser, William (Kathy) Belser, and Faye (Michael) Boudreau. She is the cherished grandmother of Alan (Roxanne) Timmerman, Arlene (Michael) LaRue, Cindy (Matthew) Mack, Eugene (Malinda Thorpe) Belser, David (Leslie) Blanks, Nicole (Brian) Durnell, Alec Hufstedler, Audrey (Robert Miller) Boudreau, Jessica Boudreau, Suzanne Boudreau, and the beloved great grandmother of twenty-three additional adored grandchildren. Josephine is the dear sister of Margaret (Charles) Widerstrom, and the late Andrew (late Shirley) Mattillion Jr. Josephine leaves behind many other family members, friends and lives she touched to treasure her memory.
Josephine's world revolved around her family, she was the true matriarch, putting the needs of her family first. Josephine was our rock as well as our foundation and will truly be missed.
Visitation for Josephine will be held Friday June 9th, 2023, from 3:00 pm until 8:00 pm. Services will be held Saturday, at 10:00 am at the Krueger Funeral Home, 13050 S. Greenwood Ave., Blue Island. Entombment will take place at Resurrection Catholic Cemetery & Mausoleums, 7201 Archer Rd, Justice, where she will be placed to rest.