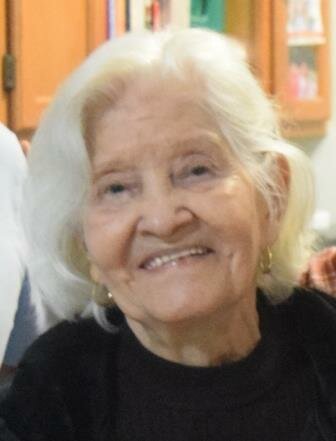 Obituary of Elvira V. Izaguirre
Elvira V. Izaguirre, 88, of Blue Island, formerly of Villa Juarez, San Luis Potosi, Mexico, passed from this life Monday, May 8, 2023. She was the beloved wife of the late Tomas Izaguirre. Elvira is the loving mother of the late Miguel (Yvonne) Izaguirre, Lilia (Rodolfo) Rodriguez, Thomas (Deborah) Izaguirre, Luis (Tammy) Izaguirre and Henry (Novelyn) Izaguirre. She is the adored grandmother (known as Mama Vira) of Andy, Mia, Miguel and Carlo and the proud great grandmother of Gaby and Izzy. Elvira is the dear sister of Rodolfo, the late Socorro, the late Juan and the late Flora.

Her love for family, cooking, good tequila and friends to share with will be missed. She will always have a place in our hearts.

A memorial visitation will be held Saturday, May 27, 2023 from 9:30 am until the time of the memorial mass at 10:00 at St. Benedict Church (St. Mary Magdalene Parish) 2339 York St., Blue Island. Interment of cremains will take place at 11:30 am at St. Mary Cemetery in Evergreen Park.

In lieu of flowers, memorial donations may be directed to the Leukemia and Lymphoma Society.