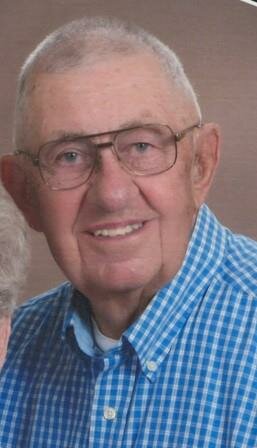 Obituary of Richard J. Holdefer
"A BEAUTIFUL LIFE CAME TO AN END, HE DIED AS HE LIVED, EVERYONE'S FRIEND"
Richard J. "Sparky" Holdefer, 91, of Blue Island, passed from this life Thursday, March 30, 2023. Richard was born February 29, 1932 in Blue Island to the late Amanda nee Kreinbrink and the late Arthur Holdefer.
Richard is the beloved husband of Norma D. nee Slater. The couple were united in marriage on October 16, 1954. He is the loving father of Steven (Mary) Holdefer, Jeff Holdefer and the late Kevin Holdefer. Richard is the proud grandfather of Jennifer, Stevyn, Kevyn and Kenyth. He was the dear brother of the late Marian (late Richard) Luety. Richard leaves other family members and friends to cherish his memory.
Richard was a United States Army veteran serving in the Korean War. He dedicated many years of his life to the Blue Island community as a firefighter. Sparky began his career in 1958, being promoted to Fire Chief in 1976 and serving until his retirement in 1985.
Sparky spent his years living in Blue Island and also in Eagle River, Wisconsin. Although his career was in the Fire Service, he wore many other hats! Sparky also worked for the Blue Island Park District, Blue Island Public Works and Witte Chevrolet. He was a gifted mechanic and could repair and restore any thing he put his hands on! Sparky spent endless hours in his garage working on automobiles, snow blowers and lawn mowers, just to name a few. He was instrumental in the refurbishing of "Old Bess" spending countless hours with each and every detail of this special fire truck.
His time spent in Eagle River was just as busy as his life on The Island! Sparky soon made many new friends there, however many folks from Blue Island also had homes on Eagle River. He began helping out neighbors by repairing and maintaining their homes while always finding something new to enhance his own family home. Sparky found time to work at a Mobile Home Park in the area and added pest control to his list of accomplishments!
Sparky enjoyed traveling with his wife, taking many cruises and vacations to Florida. He also could be found on a lake fishing.
Visitation for Richard will be held Monday, April 3, 2023 from 3:00 pm to 8:00 pm. Funeral services will be conducted Tuesday, at 11:00 am at the Krueger Funeral Home, 13050 S. Greenwood Ave., Blue Island. Cremation will be private.
In lieu of flowers, memorial donations to the American Cancer Society are greatly appreciated.
Share Your Memory of
Richard