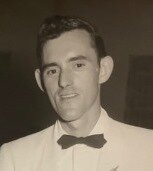 Obituary of Thomas LaVerne Reiniche
Thomas LaVerne "Verne" Reiniche, 90, of Blue Island, passed away peacefully from this life on Thursday, January 26, 2023.
Verne is the beloved husband of Elizabeth "Betty" née Kwiatkowski. They were united in marriage for sixty-three years. Verne is the loving father of three daughters, Anne (John) Siedlinski, Lori (Chris) Madsen and Mary Beth Reiniche. Verne is the devoted grandfather of Malia. He is survived by his brother Gail (Pat) Reiniche, several nieces, nephews and cousins, and a few furry grand pups and kitties. He is preceded in death by his parents, Alvin and Mae Reiniche, his brother Gerald and sisters Dolores, Colleen, and Cheryl Lynn.
A devoted family man, Catholic, and U.S. Air Force veteran, Verne was a true patriot and loved his country. He enjoyed Gunsmoke, Notre Dame "Fighting Irish" football, playing the lotto, and was especially proud of his homegrown tomatoes. Catching centerfield fly balls was Verne's favorite youthful pastime. He was beyond grateful watching the Chicago Cubs clinch the 2016 World Series. Through his playful and witty sense of humor, Verne brought a smile to everyone he met.
Visitation will be held on Monday, January 30th from 3:00pm to 8:00 p.m. Chapel prayers will begin Tuesday at 8:45 am at Krueger Funeral Home, 13050 S. Greenwood Ave., Blue Island, then to St. Donatus Church, 1939 Union Street, Blue Island, for Mass at 9:30 am. Interment will follow at St. Benedict Cemetery, 4600 W. 146th St., Crestwood.
Share Your Memory of
Thomas