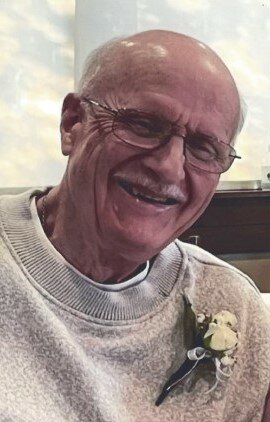 Obituary of Ken Wasniewski
Ken Wasniewski, 82, of Blue Island, formerly of Lansing, passed from this life Wednesday, November 30, 2022.
Ken is the beloved husband of Mary Ann nee Murawski. The couple were united in marriage February 24, 1962. He is the loving father of Kenneth John (Lydia) Wasniewski, Kathy Luety and Karen Laster. Ken is the devoted and proud grandfather of Albert Hoffmann and Jeffrey Hoffmann. He leaves many dear friends to cherish his memory.
Ken was born October 20, 1940 in Chicago to the late Irene H. nee Jackowski and the late Edward G. Wasniewski. He was a retired maintenance foreman for Wisconsin Steel. Ken was a faithful member of St. Christina Parish and a member of the Lansing Knights of Columbus Council 3540. Ken enjoyed spending time with his family and friends, his smile would light up the room. He had several hobbies, including woodworking, fishing and bowling. Ken found pleasure in gardening and then preparing delicious meals. He was a "man of numbers" and a master at Sudoku. Ken was a life-long fan of the Chicago White Sox.
Visitation for Ken will be held Saturday, December 3, 2022 from 3:00 pm until the time of funeral services at 7:00 pm. Interment of cremains will be held at a future date at Holy Cross Cemetery in Calumet City.
If you would like to make a donation in Ken's memory, memorial donations may be directed to St. Jude's Childrens Hospital. www.stjude.org
***DUE TO THE CHRISTMAS LIGHT PARADE IN BLUE ISLAND SATURDAY EVENING, WESTERN AND GREENWOOD AVENUES WILL BE BLOCKED TO LOCAL TRAFFIC FROM 127TH ST. SOUTH TO NEW ST. ALSO, VERMONT ST. EAST OF GREENWOOD WILL BE BLOCKED. IN ORDER TO ACCESS OUR FUNERAL HOME ON GREENWOOD, PLEASE TRAVEL WESTBOUND ON VERMONT ST. TO GREENWOOD AND TURN LEFT TO OUR PARKING ENTRANCE. YOU MAY ACCESS VERMONT ST. EITHER FROM THE NORTH VIA MAPLE AVE. OR FROM THE WEST VIA WIRETON RD.