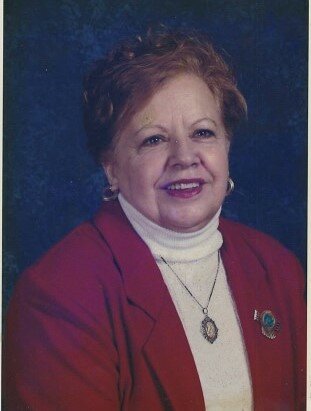 Obituary of Maria C. Esparza
Elogio A Ma. Cruz Frausto Esparza
28 de Octubre de 1942- 11 de Noviembre de 2022
La muerte acaba con una vida, no con una relación.
Era una hermana, una tía, una prima, una amiga, una compañera de trabajo, una mentora. Ella desempeñó un papel distinto para todos y cada uno de nosotros y nos tocó de manera particular. Todos la conocíamos como Cruz o Maricruz. Una persona que amaba la vida y a su familia. Siendo la mayor de sus hermanos, es posible que haya sido malinterpretada muchas veces debido a la carga de responsabilidad que se le otorgó a una edad muy temprana. Maricruz necesitaba dar el ejemplo, aunque eso significara olvidarse de sus propios sueños y deseos. Una tarea que ella abrazó diligentemente.
Maricruz creció para convertirse en una mujer segura de sí misma, valiente, franca y resiliente. Le apasionaba todo lo que hacía. Su atención a los detalles y el amor por su familia la convirtieron en la persona que siempre estuvo presente en los cumpleaños, las festividades, los eventos especiales o los momentos "simplemente porque sí". Echaremos mucho de menos esas llamadas telefónicas. Esas palabras que levantan el ánimo, esas conversaciones que pasan por el carril de la memoria... si hubiéramos sabido que esa era la última llamada, la habríamos hecho durar más.
Ahora es demasiado tarde para cuestionarnos "¿qué hubiese pasado si?" Ha cerrado sus ojos y ha extendido sus alas. Soñaba con volver a ver a los que ya se nos han adelantado. Ella ahora está con ellos disfrutando de una paz eterna.
Gracias por venir a celebrar su vida. Recuerda los tiempos felices, los días brillantes y soleados. Se dice que cuando vivimos en el corazón de quienes nos aman, cuando morimos, nunca morimos. Recuerda su nombre y hónrala apreciando a todos los que amas.
Eulogy for Ma. Cruz Frausto Esparza
October 28, 1942- November 11, 2022
Death ends a life, not a relationship.
She was a sister, an aunt, a cousin, a friend, a co-worker, a mentor. She played a different role for each and every one of us and touched us distinctively. We all knew her as Cruz or Maricruz. A person who loved life and her family. Being the oldest of her siblings, she may have been misunderstood many times due to the responsibility burden bestowed upon her at a very young age. Maricruz needed to set the example, even if this meant forgetting about her own dreams and desires. A task she embraced diligently.
Maricruz grew up to become a confident, courageous, outspoken, and resilient woman. She was passionate about everything she did. Her attention to detail and love for her family made her the person who was always present in birthdays, holidays, special events, or "just because" moments. Those phone calls will be dearly missed. Those spirit-lifting words, those conversations going down memory lane… if we would have known that was the last call, we would have made it last longer.
It is now too late for "what if's," she has closed her eyes and spread her wings. She dreamt of seeing those who parted, and whom she loved, once again. She is now with them enjoying an everlasting peace.
Thank you for coming to celebrate her life. Remember the happy times, the bright, and sunny days. It is said that when we live in the hearts of those who love us, when we die, we never die. Remember her name and honor her by appreciating everyone you love.
Visitation for Maria will take place Friday, November 18, 2022, from 3:00 pm until 8:00 pm. Funeral services will be conducted Saturday, at 10:00 am at the Krueger Funeral Home, 13050 S. Greenwood Ave., Blue Island. Interment will take place at St. Benedict Cemetery in Crestwood.