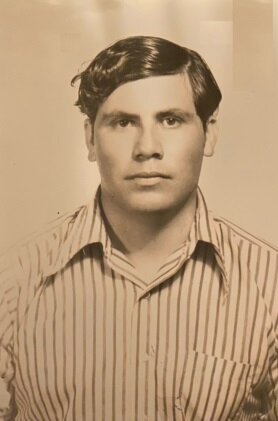 Obituary of Jose Chepo Esparza Delgadillo
Jose "Chepo" Esparza was born on September 27, 1951 to Juan Esparza and Teresa Delgadillo in Estancia de Animas, Zacatecas, Mexico. Jose had six sisters and was the youngest of 6 brothers: Maria+, Anastacia+, Blasa+, Marta+ and Esperanza+, Maria Consuelo: Jose Asencion+, Manuel+, Antonio, Jesus+, Juan+ and Jose+. Jose left school at an early age to help the family with farming work. With Jose's beloved mother departed this world early in his
life and with the love and care of his sisters and brothers, he learned to read, to work hard and to love his family. As a teenager Jose traveled to live and work in Mexico City. He joined his brother Juan, and other relatives. In Mexico City Jose was introduced to welding and auto mechanic work. Jose, like all his siblings was a hard worker, but he was a natural at mechanical aptitude. In 1970, Jose emigrated to the USA, first stopping in Phoenix, Arizona, then joining his older brother Jose Asencion in Blue Island, where many of his childhood friends from Estancia De Animas emigrated. His first job was in landscaping, chopping trees down. Eventually he worked at the Railroad Factory, retiring as a Mechanic in a steel processing factory in 2009.
Jose married his sweetheart Maria G. Arellano "Lupe" in 1971. They had four boys: Mario (Lisa), Renee (Lucia), Jose Jr (Mayra), and David. All sons graduated high school and went on to college. Two are vetarans of the US Arm Forces. One is an architect. All good men. Jose like many other Mexican people had many struggles in life, but with his hard work ethic, the love of his family and with the help of his brothers and sisters he became a good father and grandfather to eight: Tristan, Emiliano, Isabella, Samuel, Dylan, Gavin, Noah and Patrick. He was always there for anyone that asked for his help. Although he may not have realized it, he imparted a love of life, love of family and friends, and honest hard work ethic to all who surrounded him. Early in the morning of September 29, 2022, the Lord God called Jose to join his father Juan, his mother Teresa and his departed brothers and sisters in heaven. Rest in peace papa, we love you.
Visitation for Jose will be held Thursday, October 6, from 3:00 pm to 8:00 pm. Funeral services will begin Friday, October 7, at 9:00 am from the Krueger Funeral Home, 13050 S. Greenwood Ave., Blue Island then to St. Mary Magdalene Church (formerly St. Benedict Church), 2339 W. York St., Blue Island for Mass at 10:00 am. Interment will take place in St. Casimir Cemetery, 4401 W. 111th St., Chicago.
En memoria a José <<Chepo>> Esparza.
José nació el 27 de septiembre 1951 en Estancia de Ánimas, Zacatecas, Mexico. Sus padres fueron Juan Esparza y Teresa Delgadillo. José tenia seis hermanas y era el más joven de los seis hermanos:
María+, Anastasia+, Blasa+, Marta+, Esperanza+, María Consuelo: José Ascensión+, Manuel+, Antonio, Jesús+, Juan+, José+. José dejó los estudios a una temprana edad para ayudar a la familia en el campo.
Después del fallecimiento prematuro de su mamá José aprendió a leer, a trabajar duro, y a querer a su familia con el amor y los cuidados de sus hermanas y hermanos.
Como adolescente José partió para la Ciudad de Mexico para vivir y trabajar. Se reunió con su hermano Juan y otros parientes. En la Ciudad de México José aprendió a soldar y el trabajar con maquinaria.
José, como todos sus hermanos, era buen trabajador pero mostró aptitud natural por lo mecánico. En 1970 Jose emigró a EE.UU., llegando a Phoenix, Arizona antes de unirse con su hermano José Ascensión en Blue Island,
Illinois—a donde varios de sus amigos de su juventud en Estancia de Ánimas habían emigrado. Su primer trabajo fue en la jardinería tumbando árboles. Eventualmente trabajó en un taller ferroviario.
Se jubiló en el 2009 trabajando como mecánico en una fábrica procesadora de acero.
José se caso con su siempre amada María G. Esparza <<Lupe>> en 1971. Tuvieron cuatro hijos Mario (Lisa), Reene (Lucía), José Jr (Myra), y David. Todos sus hijos terminaron los estudios de preparatoria y universitarios.
Dos son veteranos de las fuerzas armadas de EE.UU. Todos son hombres de bien. José, como muchos otros de descendencia Mexicana, tuvo varias luchas en la vida pero con su espíritu trabajador, el amor de familia,
amor de sus hermanos y hermanas, llegó a ser buen papá y abuelo de ocho nietos: Tristan, Emiliano, Isabella, Samuel, Dylan, Gavin, Noah, Patrick.
Siempre estaba disponible para ayudar a quien se lo pidiera. Aunque tal vez no lo llegó a percibirlo José impartió en todos quienes lo rodearon un amor por la vida, amor por la familia, amigos, y una fuerte ética de trabajo.
Durante la temprana mañana del 29 de septiembre 2022, Dios llamó a José para unirse con su padre Juan, su madre Teresa, y sus hermanos y hermanas fallecidos.
Descansa en paz papá, te queremos.
Share Your Memory of
Jose Chepo