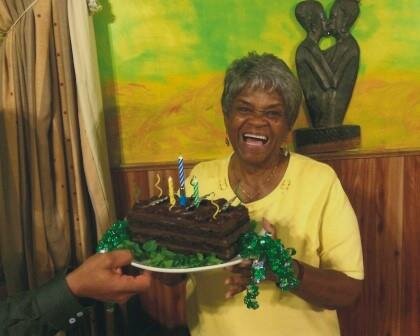 Obituary of Harriett B. Latting
"Her hands go out in service to needy and to poor."
Harriett B. Latting nee Brown, 90, of Crestwood, passed from this life Wednesday, September 21, 2022.
Harriett was born October 5, 1931 in Chicago to the late Grace nee Word and the late William McKinley Brown. On September 29, 1951 she was united in marriage to the late Thyrl Latting, who was the founder of Latting Rodeo Productions, Inc. and the Thyrl Latting Rodeo Spectacular. The couple were married for sixty-two years until the time of Thyrl's passing on January 5, 2013.
Harriett was a faithful parishoner and founding member of St. Peter Claver Catholic Church. She has been a resident of Crestwood since 1958. Harriett was formerly employed by the Chicago Rock Island and Pacific Railroad and the US Post Office in Midlothian, retiring in 1997.
Harriett was a dedicated, strong, hard working woman. She was not only the first woman to hold the position of Yardmaster with the railroad, she was the first black woman to be in charge of this demanding profession. During the Chicago Blizzard of 1967 when she was needed at the railyard, her husband saddled up their horses for transportation from their home in Crestwood to the 127th St. railyards!
Harriett had a deep devotion to her family. Her late daughter Joanne suffered from sickle cell disease. Not only did Harriett minister and care for Joanne, she was sure to tend to the needs of her other children. Harriett was determined to build a strong foundation for her family. She always gave of herself, not only to her family but to whomever needed help. Harriett enjoyed traveling, especially to other countries. Her most memorable trips were to the Holy Land and Ghana, Africa.
Harriett is survived by her loving son Michael and daughter-in-law Nina Latting and her loving daughter Tracy Latting, her treasured grandchildren Christopher Latting, Kelley (Kloe) Latting, Michelle Latting and precious great grandchild Zoe. She was preceded in death by her parents, her beloved husband Thyrl Latting and cherished daughter Joanne Latting.
A memorial visitation for Harriett will be held Saturday, October 22, 2022 from 9:00 am until the time of memorial mass at 10:00 am at St. Mary Magdalene Church (formerly St. Benedict Church), 2339 York St., Blue Island. Inurnment of cremains will take place at St. Casimir Cemetery.
If you would like to contribute in Harriett's memory, please direct memorial donations to www.sicklecelldisease-illinois.org or www.cancer.org