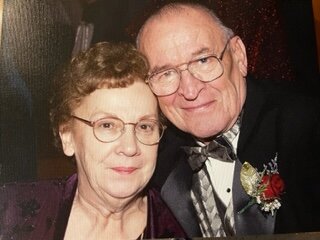 Obituary of Lucille Joan Barbara Jaskolski
Lucille Joan Barbara Jaskolski nee Gebhardt, 90, of Blue Island, formerly of Chicago Midway neighborhood, passed from this life Tuesday, May 17, 2022.
Lucille was born April 2, 1932 in Chicago to the late Stella nee Galewski and the late Frank Gebhardt. She was formerly employed by Campbell Soup as the U.S. Logistics Controller and was the former owner and operator of D&L Cleaning. Lucille was devoted to her family and her community. She was a Den Leader for Cub/Boy Scout Troop 678 and a 4-H Leader for the Green Leaf Cadets. Lucille served as a Republican Election Judge for thirty-four years in the City of Chicago. She was a former parishioner of the Roman Catholic Churches of St. Augustine, St. Mary Star of the Sea and St. Thomas More. Lucille enjoyed her pets, crossword and jigsaw puzzles, laundry, Wheel of Fortune, pork hocks and sauerkraut, sushi, Mexican train game, the Christmas tune Silver Bells, and mini-holidays. Lucille loved the Truth, Life from the womb to the tomb, the Tridentine Latin Mass, Confession, the Rosary, the Priesthood and Nuns with their habits on, Virgin Mary, all the Saints, Venerables, Servants of God, and Martyrs and the UNITED STATES OF AMERICA.
Lucille was the beloved wife of the late Donald V. Jaskolski who passed away in 2010. She is the loving mother of Donald Jr. (Barbara) Jaskolski, Luann (Ronald) Bloom, Gary (Julie) Jaskolski and Carolee (Christopher) Cannonito. Lucille is the cherished Grandmother of Jillian, Andrew, Samantha, Maxwell, Dominic, Francesco, Kolbe, Regina, Lucia, Rosalee, Don Emmanuel and Johannes Bell and the proud great-Grandmother of Josephine. Lucille was the dear sister of the late John (Irene) Gebhardt, Frances (Joseph) Smith, Dorothy (Bud) Grimm, Clare (Stanley) Wisniewski, Jerry Mike Bruhnke and cousin to Judith and Maryann Brunner. She was the beloved aunt of many nieces and nephews; the Smith's, Healy's, Grimm's, Gebhardt's, Jaskolski's, Jones's Merchantz's, Kuligowsi's, Zygmuntowicz's, Wisniewski's, Michalzewski's, McInerney's, the Barkus's, Julie Galewski and Edward Bruhnke "the marathon man". She is the "adopted" Grandmother of Brigid and Hannah O'Neill, Sydney, Ariahana, Christopher, Christine and Ean, Noah, Caleb, Brooke and Ethan. Lucille was known as "Mom" to many in the Fleming/Clearing neighborhood including Maryann Nicolosi, Gary Callahan, Kevin Foy, "The Tomatoes", Tony M., Nivio, Al, Emil, Don P., St. Rita soccer/16" softball buddies, the Stillman's, Dad's Chi-Phillies and many others. Lucille was Blessed with many earthly angels Jesus LeChuga. Beth and Larry Roland, Tom Anderson, Maggy and Elizabeth, Ron Bonneau, Gaylyn, Jerry and DaleAnn Strazzante, Sr. Maria Paulina, Pat Hanlon, Lorelei, Charlene, Michele, Sonora, Aggie, Ron Lewis, Anna Marie Batt and the NENA family, Jim Farrell, Red Rose, Jack Kettering, Bobbi Johnson (Galena), Drs. Thomas Kim, Thomas Levin and Paulina RN and the many holy parishioners at St. Thomas More.
Visitation for Lucille will be held Thursday, May 26, 2022 from 3:00 pm until 8:00 pm at the Krueger Funeral Home, 13050 S. Greenwood Ave., Blue Island. Fr. Scott Haynes will preside at prayers at 5:00 pm then will conduct private confessions at 5:15 pm. The Divine Mercy Chaplet will be prayed at 6:15 pm. Holy Mass will be celebrated Saturday, May 28, 2022 at 10:30 am at St. Thomas More Church, 2825 W. 81st St., Chicago, interment will take place at Resurrection Cemetery in Justice.
In lieu of flowers, memorial donations may be directed to:
Mass offered at your local parish for Lucille Joan Barbara Gebhardt Jaskolski
Pro-Life Action League https://prolifeaction.org
6160 North Cicero Avenue, Suite 600 Chicago,IL 60646
The Women's Centers for Greater Chicagoland – Changing Hearts. Saving Babies. (gotwc.org)
5116 North Cicero Avenue, Chicago, IL. 60630
The Coming Home Network - Discover Catholicism, Come …
P.O. Box 8290, Zanesville, OH 43702
ProLife Across America | The Billboard People
https://prolifeacrossamerica.org
https://www.musica-pacis.org/about
2438 S. 61st Court, Cicero, IL 60804-2613
Breast Cancer Prevention Institute
531 US Highway 22 East, Suite 170
Whitehouse Station, NJ 08889 USA