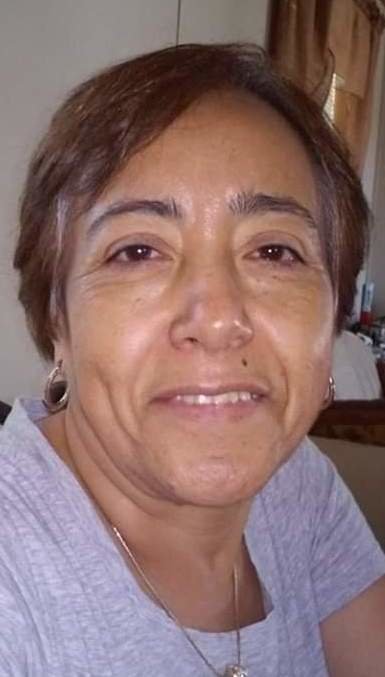 Obituary of Elvia S. Frausto
Elvia S. Frausto nee Sanchez, 63, of Dixmoor, formerly of Blue Island, passed from this life Friday, August 2, 2019.
Elvia is the beloved life partner of Alfredo Ortiz. She is the devoted mother of Mayra (Yair) Valdez, Angelica (Manuel) Vergara, Miguel (Esperanza) Arellano and Edgardo Frausto. Elvia is the cherished grandmother of Elia, Dario, Nathaniel, Manuel Jr., Adrian, Danny, Iliana, Naomi, Isai, Noah, Ezequiel and Avani.
Elvia was born December 11, 1955 in Mexico to Esther Sanchez and Jose Guadalupe Frausto. She is the dear sister of Javier (Carmen) Frausto, George (Lisa) Frausto, Henry (Sandy) Frausto, Art (Laura) Frausto, Jaime Frausto, Elizabeth (Pete) Smith and the late Guadalupe Frausto Jr. Elvia is the loving aunt of Sylvia, Esmeralda, Maricela, Javier Jr., the late Adon, Jose, Jordan, Jared, Isabella, Heather, Jessica, Daniel, Mathew, Brittany, Breanne, Julian, Diana, Julissa, Tyra and Julian. She leaves many other family members and friends to cherish her memory.
Elvia was devoted to her family. She was never too busy to listen to their cares and concerns, and always had a solution that would soon ease their problems. Elvia enjoyed cooking fantastic meals for her family and friends. She would light up the room at parties and family gatherings, touching the hearts of all of whom she knew.
Elvia believed in a non-judgmental lifestyle. She was known as a rebel, especially when it came to being a grandmother, no matter if the children were actually her own or just visiting. Elvia would often times be found playing games with them, and of course, treating them to cookies and candies !
Visitation for Elvia will be held Wednesday, August 7, 2019 from 3:00 pm until 8:00 pm at the Krueger Funeral Home, 13050 S. Greenwood Ave., Blue Island. Cremation will be private.
Share Your Memory of
Elvia