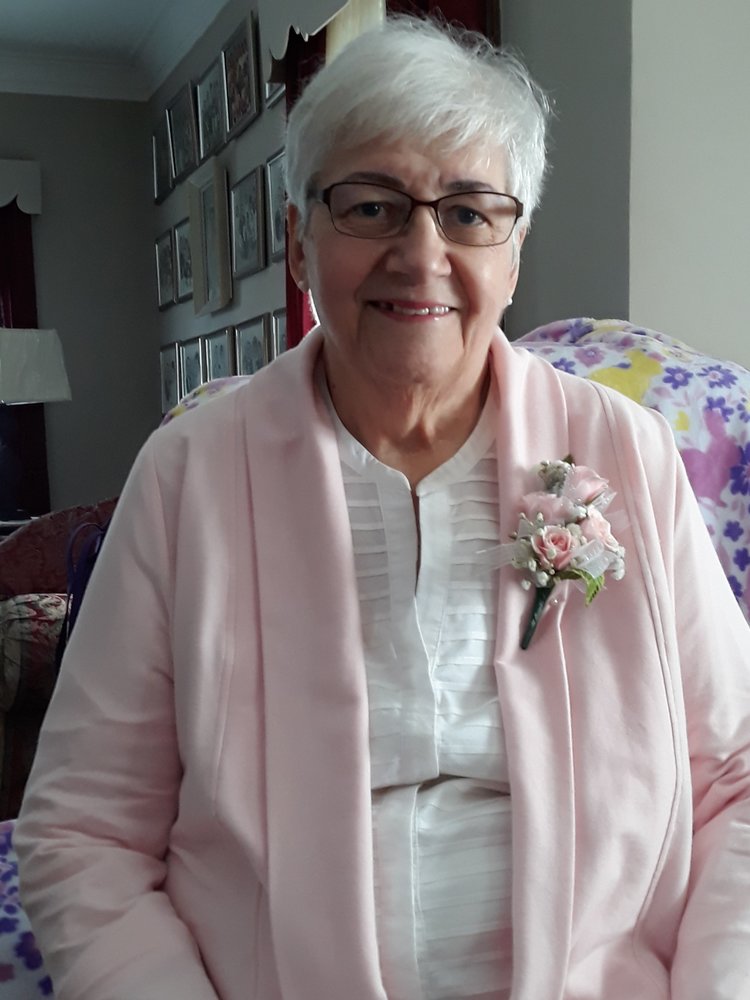 Obituary of Louise Angel Krylowicz
Louise Angel Krylowicz of Blue Island, formerly of Roseland and West Pullman, beloved wife of the late Michael J. Krylowicz. Born February 13, 1939 in Blue Island to the late Bernice nee Wortel and George Angel, at rest in Christ, May 30, 2019, leaving her 14 children, Rev. Mark Krylowicz, Mary Krylowicz (Mike Kaliski), Margaret (Paul) Nelson, Martha (George) Stuart, Monica (Ken) de Groh, Marlene (Christopher) Adams, Montana Krylowicz, Marcella (Gary) Hicks, Melissa Krylowicz, Matthew (Valerie) Krylowicz, Melody Krylowicz, Miles (Michelle) Krylowicz , Martin (Trisha) Krylowicz and Merrill (Katherine) Krylowicz, 26 grandchildren, Nicholas (Julaine) Denny, Jessica Krylowicz, Elizabeth Turrisi, Louise Krylowicz, Erica (Russell) Slagle, Erin Denny, Daniel Krylowicz, Katrina (Eric) Maldonado, Emily (Kerry) Ludden, Kenneth (Rachel Witt) de Groh, Matthew 'Matty' (Samantha) Krylowicz, Wesley Krylowicz, Kurtis Nelson, Ava de Groh, Colin Denny, Samantha Richter, Janine Adams, Devin Krylowicz, Brooke Adams, Isabella Bodini, Makenna Krylowicz, Dimitri Krylowicz, Abigail Krylowicz, Audra Krylowicz, Natalie Krylowicz and Michael Krylowicz , 12 great-grandchildren, Tyler Denny, Hayden Krylowicz, Lorelei Denny, Stella Denny, Laila Maldonado, Morgan Krylowicz, Zosia Krylowicz, Easton Slagle, Lincoln Lietz, Amelia Krylowicz, Gemma Ludden and Elena Maldonado, and siblings, late Janet Ostrowski, George Angel and Maryanne Formberg.
Louise was dedicated to her family and to St. Benedict Parish, serving as a Girl Scout Leader for twenty years, Extra Ordinary Minister of Communion, Women's Club, and St. Vincent De Paul Society. She was a member of the Blue Island Historical Society, where she enjoyed participating, along with her children, in the Tea Parties hosted by the Society. Louise also found pleasure working in her garden.
Visitation Wednesday, June 5, 2019 from 3:00 pm to 9:00 pm at the Krueger Funeral Home, 13050 S. Greenwood Ave., Blue Island. Lying in state Thursday, from 9:00 am until the time of mass at 10:00 am at St. Benedict Church, 2339 York St., Blue Island. Interment Mt. Olivet Cemetery, Chicago. Please, no flowers, mass intentions preferred at your home parish, St. Benedict or St. Anthony of Padua Church are requested. 708-388-1300 www.kruegerfuneral.com
Visitation
3:00 pm - 9:00 pm
Wednesday, June 5, 2019
Krueger Funeral Home
13050 S. Greenwood Ave.
Blue Island, Illinois, United States
708-388-1300
Holy Mass
10:00 am
Thursday, June 6, 2019
St. Benedict Church
2339 York St.
Blue Island, Illinois, United States