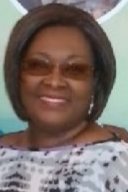 Obituary of Gifty C. Lawson
"BUT THE LORD STOOD WITH ME AND GAVE ME STRENGTH"
Gifty C. Lawson nee Cofie, 67, of Blue Island, kissed the world goodbye with her final breath Saturday, October 13, 2018 at 11:10 pm.
Gifty was born March 3, 1951 in Ghana to the late Gladys nee Agyeman and George Cofie. She was the former wife of Richard Lawson. Gifty is the beloved mother of Dorothy Lawson Ababio, Albert (Miyoshi) Lawson and Patricia Lawson. She is the devoted grandmother of Albert Lawson Jr., Allen Lawson, Maame Ababio, Robyn Ababio, Kyran Lawson and Aniyah Farrow and the cherished great grandmother of Nyalah, Nyasiah, Nathan, and baby to be born soon. Gifty is the loving sister of Frankie Opoku, Tony Opoku, Vivian Opoku, Randy Opoku and Rosita Opoku.
Gifty was a retired Certified Nursing Assistant, employed at St. Matthews Nursing Home and Ballard Nursing Home, both of Park Ridge. She also was a beautician and owned "La Cute" beauty salon for many years. Gifty was a loving and compassionate person, she not only gave of herself in her work, but also shared her kindheartedness with all those in her life. She was a woman of faith, worshiped God, became a student of The Word Of God and served the people of God as a greeter. Gifty enjoyed cooking, sewing and spending time with her family, especially her grandchildren and great grandchildren. She had drive and perseverance that gave comfort and care to all. Gifty leaves many family members and friends to cherish her memory. She will be deeply missed.
"I PRAISE YOU BECAUSE I AM FEARFULLY AND WONDERFULLY MADE.
YOUR WORKS ARE WONDERFUL, I GIFTY, KNOW FULL WELL"
Visitation for Gifty will be held on Friday, October 26, 2018, from 9:30 am until the time of service at 11:30 am at the Krueger Funeral Home, 13050 S. Greenwood Ave., Blue Island. Interment will take place at Burr Oak Cemetery in Alsip.