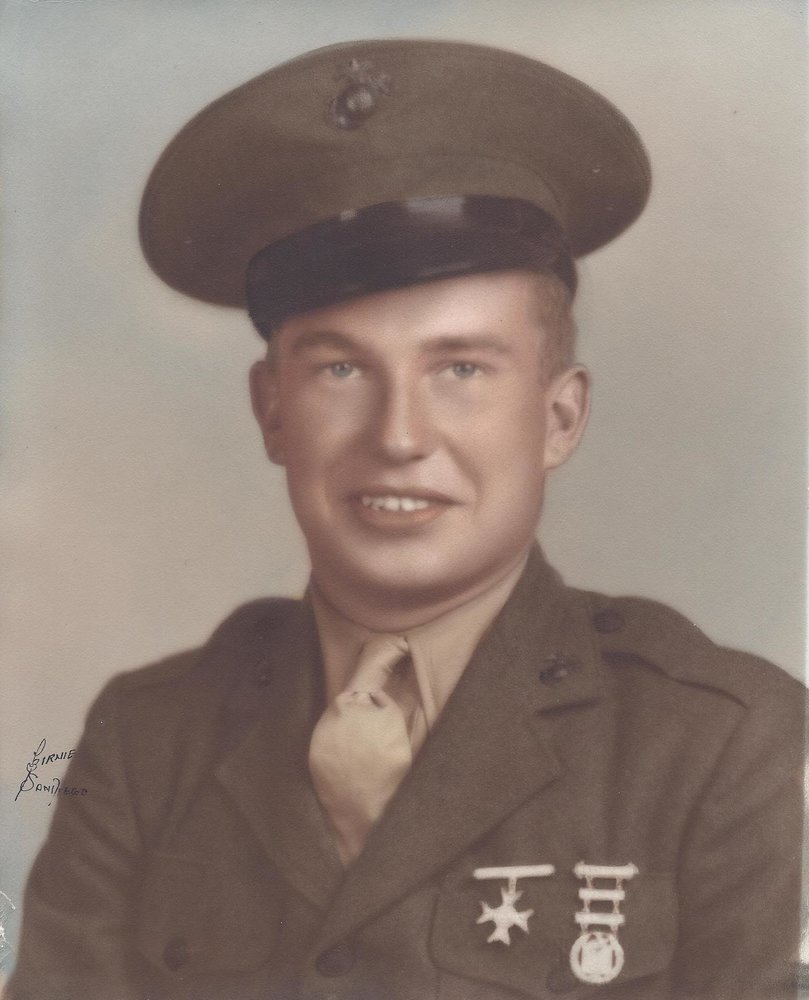 Obituary of Charles E. Oetjen
Charles E. Oetjen was born March 7, 1925 in Chicago to the late Hilda nee Sieg and Edward A. Oetjen. Charles, his sister, the late Marian Oetjen Tucker and their parents resided on Walnut Street in Blue Island. In 1943, while Charles was in his senior year at Blue Island Community High School, the country was at war. He left school and joined the Marine Corps prior to his graduation that year. Pvt. Charles E. Oetjen was first sent to California and then to the Pacific theater. His unit participated in the invasion of Tarawa, a small piece of land located southwest of Hawaii in the Gilbert Islands. The Battle of Tarawa was fought from November 20 to November 23, 1943. Although the Marines were successful in this battle, 1,200 US Marines and Navy Corpsmen lost their lives, including Charles. Mr. and Mrs. Oetjen received the sad news that their young son was killed in action on November 20, 1943. His body was not recovered and he was buried respectively among the fallen of The Battle of Tarawa, in a section of land labeled "Division Cemetery #3". A 1944 Sun-Standard newspaper clipping indicated that a memorial service for Pvt. Oetjen was to be held at First Ev. Lutheran Church. History Flight, Inc., headed by Mr. Mark Noah, is an Atlanta based nonprofit dedicated to locating and retrieving remains of American service members missing in action or buried on foreign soil. This past spring, Mr. Ken Oetjen was notified that Charles' dog tags, scraps of his uniform and remains had be recovered in May of 2015 on Betio Island, Tarawa Atoll in the Republic of Kiribati. Ken Oetjen and his sisters Margaret Oetjen and Joanne Hoeksema contacted The Blue Island Historical Society to gather information on their cousin, whom they had a memory of, but had never met. Mike Kaliski of the historical society, gave the family a scrapbook which held letters and cards that Charles had received at his going away party, plus some government documents and a few letters Charles had written to his family. After 73 years, Pvt. Charles E. Oetjen will be returned to his homeland. Interment will take place, with full military honors, on Saturday, July 30, 2016 at 10:00 am at First Ev. Lutheran Cemetery in Alsip. If you would like to contribute to Charles memory, donations may be directed to History Flight www.historyflight.com. Additional information provided by the United States Marine Corps: PFC Charles E. Oetjen, USMC, Killed In Action November 20, 1943, WWII, Battle of Tarawa. He enlisted into the Marine Corps on February 27, 1943 in Chicago, Illinois PFC Oetjen was assigned to E Company, 2/8, 2nd Marine Division as part of the strategic goal of securing the Marshall Islands during World War II, U.S. forces were ordered to secure the Tarawa Atoll in the Gilbert Island chain in late 1943. From November 20-23, 1943, the U.S. Marine 2nd Division and the U.S. Army 27th Infantry Division landed on the small Tarawa island of Betio against stiff Japanese resistance. Over several days of intense fighting, approximately 1000 Marines were killed and over 2000 others were wounded. In 1946 U.S. Army Graves Registration Service personnel attempted to locate and exhume all of the battlefield interments; however, because of the construction activities many of the burials were never located.
Graveside Service
10:00 am
Saturday, July 30, 2016
First Ev. Lutheran Cemetery
4135 W. 127th St.
Alsip, Illinois, United States
Service Time: 10:00 AM
Interment at: First Ev. Lutheran Cemetery
10:00 am
Saturday, July 30, 2016
First Ev. Lutheran Cemetery
4135 W. 127th St.
Alsip, Illinois, United States
Share Your Memory of
Charles