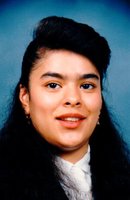 Rierrma Rios
Rierrma Rios, 52, of Harvey, passed from this life Saturday, March 16, 2019. She is the beloved mother of Alexander Rios, Stephanie Rios and Carlos Rios. Rierrma is the devoted gradmother of Mason Rios, Kali Rios and Alexander Rios. She is the loving daughter of Ramiro (the late Benita nee Carrillo) Rios and the cherished sister of Rosario "Rose" Ornelas, Ramiro Rios Jr., Maria "Helen" Rios, Ramon Rios, Raquel "Nana" Rios, Monica Rios and Diane Rios.
Rierrma has been a resident of Harvey since 1972. She was formerly employed at El Cortez Restaurant.
Visitation for Rierrma will be held Thursday, March 21, 2019 from 3:00 pm until 9:00 pm. Chapel prayers will begin Friday at 10:30 am at the Krueger Funeral Home, 13050 S. Greenwood Ave., Blue Island, then to St. Donatus Church, 1939 Union St., Blue Island, for mass at 12:00 noon. Cremation will be private.