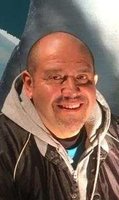 Joel D. Hernandez
Joel D. Hernandez, 60, of Nottingham Park, Illinois, passed from this life Tuesday, March 12, 2019 at Loyola Medical Center. He is the beloved husband of Martha E. nee Alvarado. Joel is the devoted father of Matthew Cordova and Malinda "Baby" Cordova Hernandez. He is the dear brother of Gabriel Hernandez and the late Rebecca Rico.
Joel was employed as a Union Sheet Metal Worker, Local 73.
Visitation for Joel will take place Friday, March 15, 2019 from 3:00 pm until 9:00 pm at Bethel Pentecostal Church, 2726 Broadway, Blue Island. Funeral services will be conducted Saturday at 10:00 am at Bethel Pentecostal Church. Interment will take place at Beverly Cemetery.
In lieu of flowers, a Go Fund Me Page has been developed for the family, "Paying Tribute To Joel D. Hernandez".