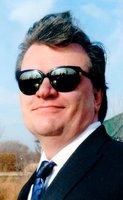 Kevin Michael Murphy
Kevin Michael Murphy, 60, of Blue Island, passed from this life Sunday, March 10, 2019. He is the beloved son of Dorothy J. nee Sereik and the late James J. Murphy. Kevin is the loving brother of James (Pamela) Murphy, the late Scott Murphy, Terrence (Lori) Murphy and Dr. Melanie (David West) Murphy and the uncle and great uncle of many nieces and nephews. Husband of Sandra G. nee Clarkson.
Kevin was formerly employed by the Sun-Times in the IT Department. He was an active member of the Blue Island Community, where he has resided since 1962. Kevin was a member of Boy Scout Troop 782 earning the rank of Eagle Scout with a Bronze Palm. He was a member of Sertoma and former member of the Blue Island Library Board, where he would instruct computer training classes. Kevin was very knowledgeable and active in local politics and served as an Election Judge for many years.
Visitation for Kevin will be held Friday, March 15, 2019 from 3:00 pm until 9:00 pm. Chapel prayers will begin Saturday at 10:30 am at the Krueger Funeral Home, 13050 S. Greenwood Ave., Blue Island, then to St. Walter Church, 118th & Western Ave., Chicago, for mass at 11:30 am. Interment will take place at St. Casimir Cemetery, Chicago.