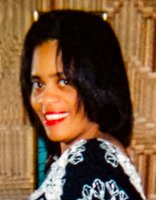 Sandra D. Haywood
Sandra was born on February 17, 1953 in Chicago, IL to Wendell and Cleomia (Lilly) Ferrill. She attended Greater Institutional A.M.E. Church, where she was baptized, and gave her life to Christ. Sandra attended Nicholas Senn High School in Chicago, and enrolled at Western Michigan University in Kalamazoo, MI- but later received an associated degree from Chicago Conservatory of Music (The Music Conservatory of the Chicago College of Performing Arts), where she majored in Piano. On December 24, 1974, she married Albert Lee Haywood (Divorced). They raised two sons, Albert Jr and Alvin.
Sandra had a passion for music. She began playing piano at the age of 3 years old. Many would say she was a prodigy. Sandra, as a pianist was much admired not only by her family and friends, but by those individuals who would seek out her talent to perform at weddings, high school graduations, competitions, and many other events. Sandra's "claim to fame" came when she was one of two contest finalists to play at the world-renowned Orchestra Hall (Chicago Symphony Orchestra) in Chicago. She played a piece by Frank Liszt call "Hungarian Fantasy" that overwhelmed the crowd.
Sandra also loved to bowl, and she loved birds. For many years, she took part in a local bowling league with several of her friends and family members. She won several first, second, and third place awards. Sandra owned two exotic parrots for many years named "Pookie" and "Blue."
At the age of 36, Sandra was diagnosed with Multiple sclerosis. She spent that last seven years in a local nursing home and was visited frequently by close family members and friends. Although the disease hindered her ability to pursue her greatest passion and hobby, it did not take away her ability to continue to make people laugh, volunteer her time in the community, or continue to connect with family and newfound friends.
Sandra was preceded in death by her father, Wendell, and her mother, Cleomia. She is survived by her two children, Albert Jr, and Alvin, five grandchildren, her stepmother Evelyn, her brothers Wendell (Wayne), Kenneth (Ken), and Jeffrey (Jeff), her Sisters Deborah (Debbie), Mandy, Raelynn (Rae), Valinica, Ramona and Allene, her uncle Vernon, her Aunts Mary and Murphery, and several other uncles, aunts, cousins, nieces, and nephews.
Visitation for Sandra will he held Tuesday, September 3, 2019, from 3:00pm to 8:00pm. A prepass will begin Wednesday at 9:30am and continue until the time of the funeral service at 11:00 am at Krueger Funeral Home, 13050 S. Greenwood Ave., Blue Island with Vincent E. Gray, officiating. Interment will take place at Restvale Cemetery in Alsip.
In lieu of flowers, please direct memorial donations to Foundations of Music https://www.foundationsofmusic.org/