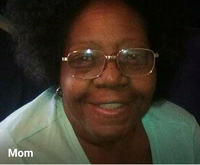 Yvette E. Bailey
Yvette E. Bailey nee Armand, 65, of Chicago, entered into eternal peace on Sunday, July 28, 2019 at The University of Chicago Hospital. She was born March 7, 1954 in Chicago to the late Mamie nee Hibbler and Joseph Armand. Yvette was a 1972 graduate of DuSable High School and also attended Barton Community College in Kansas. She attended services at Joy Fellowship Baptist Church of Chicago. Yvette was devoted to her family and loved to prepare special meals for them. She enjoyed reading and completing crossword puzzles.
Yvette was the beloved wife of the late Bruce Lee Bailey who entered eternal peace on Saturday, September 17, 2016. She will be forever remembered by her sons James and Leslie, daughter Erin Bailey, grandson Kieran, and brothers Durrall Armand, Pierre Armand, and Reginald Armand along with countless friends and family who were blessed to have known her.
Interment of cremains will take place on Friday, August 2, 2019, at 2:30 PM at Abraham Lincoln National VA Cemetery.