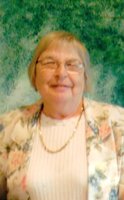 Mary Ann Wysocki
Mary Ann Wysocki nee Alexich, 75, of Blue Island, passed from this life Friday, July 19, 2019. She is the beloved wife of Constant Wysocki. Mary Ann was the loving mother of the late Lee Wysocki, Ken (Elizabeth) Wysocki, devoted grandmother of their children, Jack and Shaun and the loving mother of Doug Wysocki and his family.
Mary Ann was formerly employed by the Blue Island Library as a librarian. She especially enjoyed traveling with her sons throughout the United States and Europe. Mary Ann was a faithful member of St. Isidore Church, formerly of Blue Island. She volunteered many hours in the school library and for various other events in the parish. In her teen years, Mary Ann spent numerous evenings at Raceway Park cheering for her favorite drivers!
Visitation for Mary Ann will be held Monday, July 22, 2019 from 3:00 pm until 8:00 pm at the Krueger Funeral Home, 13050 S. Greenwood Ave., Blue Island. A private interment will be held at St. Benedict Cemetery, Crestwood.