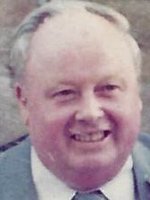 Robert "Bob" E. Peterson
Robert "Bob" E. Peterson, 91, of Blue Island, passed from this life Tuesday, July 2, 2019 at Lemont Nursing and Rehabilitation Center. He was the beloved husband of the late Alice nee Doyle and the late Bettie nee Larson. Bob is the loving father of Rob (Lori) Peterson, Paul (Debbie) Kunis, William (Jimmie) Kunis, Maureen (Jim) Smith, the late Robert "B" (Mary) Kunis and the late Therese Kunis. He is the devoted grandfather of Rachel, Rob, Justin, Jessica, Christina, Shannon, Nicole, Austin, Katie and Nick. Bob is the proud great grandfather of Aurora, Jackson, Faith, Raelynn, Michael, Amaya and Ryder.
Bob retired from Allis-Chalmers in 1992 and he enjoyed spending time with his family and friends. Bob has fostered seventeen children during his lifetime and taken them into his home when they needed care. His other interests included fishing and traveling.
Visitation for Bob will be held Friday, July 12, 2019 from 9:00 am until the time of service at 11:00 am at the Krueger Funeral Home, 13050 S. Greenwood Ave., Blue Island. Interment will take place at Holy Sepulchre Cemetery, Alsip.
In lieu of flowers, memorial donations may be directed to SOS Children's Villages of IL www.sosillinois.org