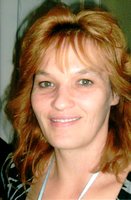 Jennifer Catania
Jennifer L. Catania, 45, of Chicago, passed from this life suddenly on March 1, 2018.
Jennifer is the loving mother of Abagail Catania, Ilean Snodie and Jaden Sanchez. She is the loving partner of Felix Sanchez. Jennifer is survived by her mom Beverly Ward and her mother Mary Russell. She is the cherished sister of Sherry Russell, James (Kelly) Ward, Robin Russell and Christine (Christopher) Ward-Melendez. Jennifer is the adored aunt of many nieces and nephews.
Jennifer enjoyed nothing more than spending time with her beloved family and friends. She had a heart of gold and a loving nature. Jennifer was friend to all animals, especially her favorite, the late Peanut, an adorable chihuahua.
Visitation for Jennifer will be held Monday, March 5, 2018 from 3:00 pm until 9:00 pm. Funeral services will be conducted Tuesday at 11:00 am at the Krueger Funeral Home, 13050 S. Greenwood Ave., Blue Island. Interment will take place at Mt. Greenwood Cemetery in Chicago.