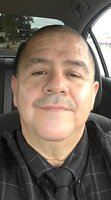 Jorge Trevino
Jorge Trevino, 55, of Kankakee, passed from this life Tuesday, Februaary 20, 2018.
Jorge is the beloved husband of Maria Guadalupe nee Garcia. He is the devoted father of Ranee Trevino, Jessica Trevino, Jorge Trevino Jr. and Joselin Trevino. Jorge is the cherished son of Azucena nee Gutierrez and the late Abraham Trevino. He is the dear brother of Arturo Trevino, Raul Trevino, Raquel Quirarte, the late Armando Trevino, Homero Trevino and Laura Frausto.
There will be two services to honor the life of Jorge. The first visitation will be held Friday, February 23, 2018 from 5:00 pm until 9:00 pm at First Presbyterian/San Juan 3:16 Church, 371 E. Court St., Kankakee. On Saturday, February 24, 2018, a visitation will be held from 11:00 am until the time of service at 12:00 noon at Bethel Pentecostal Church, 2726 Broadway, Blue Island. Interment will take place at Mt. Hope Cemetery in Chicago.
Arrangements have been entrusted to the Krueger Funeral Home, 13050 S. Greenwood Ave., Blue Island.