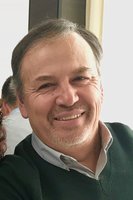 Enrique F. Esparza
Enrique F. Esparza, 62, of Blue Island. He is the beloved husband of Blanca nee Esparza. Enrique is the devoted father of Walter (Lauren) Esparza and Vanessa (Nick) Esparza-Lopez. He is the loving and proud grandfather of Luca Esparza and Matteo Esparza. Enrique is the dear brother of the late Virginia Esparza, late Raul Esparza, Angela Esparza, late Abelina Esparza, late Eustaquio Esparza, late Alberto Esparza, Misael Esparza and the late Felipe Esparza.
Enrique was a current employee of Keift Brothers of Elmhurst.
Visitation for Enrique will be held Friday, February 2, 2018 from 3:00 pm until 9:00 pm. Chapel prayers will begin Saturday at 9:00 am at the Krueger Funeral Home, 13050 S. Greenwood Ave., Blue Island, then to St. Benedict Church, 2339 York St., Blue Island for mass at 10:00 am. Interment will take place at St. Benedict Cemetery in Crestwood.