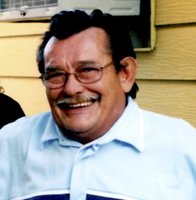 Hipolito Rodriguez Gonzalez
Hipolito Rodriguez Gonzalez, 74, of Blue Island, passed from this life Saturday, January 20, 2018.
He was the beloved husband of the late Isabel nee Martinez. Hipolito is the loving father of Maria Carmen Rodriguez (Alfredo) Hernandez, Reinaldo (Wanda) Rodriguez, Mildred (Harry) Rivera, Geraldo (Mayde) Rodriguez, Syndia Rodriguez, Orlando Rodriguez (Cynthia Fullwood), Gysel (Adrian) Corral, Yesenia (Jesus) Trejo, Awilda Rodriguez, Rosabel Rodriguez and Leslie Rodriguez. He is the cherished grandfather of Jose Hernandez (Abigail Manlapaz), Noimi Hernandez, Reinaldo (Crystal) Rodriguez, Javier Rodriguez (Jazmin Moreno), Josue (Marilyn) Rodriguez, Yarisa (Omar) Islas, Anthony Rodriguez, Kanisha Rodriguez (David Reina), Shakira Rodriguez, Ignacio Olaguez, Giovanni Olaguez, Chantal Olaguez, Angel Olaguez, Illiana Rodriguez, Monet Rodriguez, Landon Rodriguez, Adrian Jr. Corral, Ilani Corral, Isabelle Corral, Adam Corral , Abraham Corral, Jesus Jr. Trejo, Angelo Trejo, Christopher Trejo, Jomar Robles,Juan Gonzalez, Jayleen Gonzalez, Brian Rodriguez and Jandylimar Gomez and the proud great grandfather of Anevay Hernandez, Jordan Rodriguez, Jaxson Rodriguez, Donovan Moreno, Adan Moreno, Tatianna Rodriguez, Armani Rodriguez, Javian Jaramillo and Amarianys Reina. Hipolito was the dear son of the late Pedro Rodriguez and the late Carmela nee Gonzalez. He is the fond brother of Hipolita Rodriguez, Emerito Rodriguez, Maria Rodriguez, the late Pascual Rodriguez, the late Eddie Rodriguez, the late Candelario Rodriguez, Rosa Rodriguez, Juan Rodriguez, Agustin Rodriguez, Antonio Rodriguez, Feliciano Rodriguez, Carmin Rodriguez and Santa Concepcion.
Hipolito was a hardworking man. He moved from Puerto Rico to Chicago, Illinois in the 1960's to provide a better quality of life for his wife and children. Eventually he landed a job as a Baker at Gonnella Bakery where he dedicated 36 long years until retiring in 2003. He moved back to Puerto Rico and was able to enjoy thirteen amazing years in his San Lorenzo home, of which he enjoyed fixing and remodeling. It wasn't until 2016 that he moved back to Illinois to be surrounded by his children, grandchildren and great grandchildren whom he loved dearly. He spent most of his time watching and laughing to "Chavo del Ocho". If he wasn't talking about money, he was cracking random jokes to make you laugh. Hipolito was a unique kind of man and will be missed dearly.
Visitation for Hipolito will be held both Wednesday, January 24, 2018 from 3:00 pm until 9:00 pm and Thursday, January 25, from 3:00 pm until 9:00 pm. Funeral services will be conducted Friday, January 26, at 10:00 am at the Krueger Funeral Home, 13050 S. Greenwood Ave., Blue Island. Interment will take place at St. Mary Cemetery in Evergreen Park.