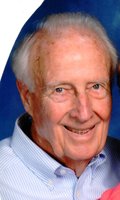 William R. Blew Jr.
William Robert Blew, Jr., aged 90, of Palos Heights, Illinois, and Vero Beach, Florida, passed away at home on January 11, 2018, surrounded by his family.
Bill Blew was born in Chicago, Illinois to William Robert (Bob) Blew, Sr. and Adele Binney Blew on March 20, 1927. He grew up in the Morgan Park neighborhood on Chicago's South Side, and was a 1945 graduate of Morgan Park High School. Drafted to the U.S. Army in 1945, he served until 1947. With the GI bill, he returned to college at Morgan Park Junior College and later at Purdue University where he earned his degree in 1951 in chemical engineering and was a member of the Phi Delta Theta fraternity.
While at Purdue, Bill wed Marilyn Whitehead of Blue Island, Illinois in 1950. They were married for 67 years until his death.
Bill was employed for eighteen years with Swift & Co. in Chicago as a chemist and then as a manager in Swift's industrial soap and chemical division. When Swift shut down that division in 1971, Bill started his own very successful business, Blew Chemical Company, which manufactures and distributes some of the same products he had developed at Swift and other products that he later created. Starting his own company gave him the financial comfort and freedom to enjoy travel and to work well into his eighties.
Bill was raised to be of service to others. As a teenager, he earned the Eagle Scout, and it instilled in him many lifelong passions – a love of the wilderness, canoeing and stamp collecting. He later became a Boy Scout leader in Palos Heights, helping many other boys earn the rank of Eagle and receiving one of adult scouting's greatest honors, the Silver Beaver. For his 90th birthday, many of his former scouts sent notes telling of the significant impact he had made on their lives. He served for many years on the board of Metropolitan Family Services, was an elder and active member of the Palos Park Presbyterian Church and volunteered to help tutor school children through the Community Church in Vero Beach, Florida.
For eight decades he traveled to the Boundary Waters Canoe Area Wilderness between Minnesota and Canada to canoe and camp with Boy Scouts, with Bob Mains, his best friend since childhood, and with his family and many friends. Bill loved canoeing and harbored other more adventurous dreams. During the late summer and fall of 1992, when he was 65 years old, he and Bob Mains traveled by canoe from Palos Heights, Illinois, to New Orleans, Louisiana on the Cal Sag Canal, the Des Plaines River, the Illinois River, and the mighty Mississippi, camping all the way. Not satisfied with this epic 52-day, 1400 mile trip, two years later the two of them journeyed to the headwaters of the Mississippi River in Minnesota and paddled to Grafton, Illinois, where the Illinois River meets the Mississippi, so they could rightly claim to have traveled by canoe the entire length of the storied river.
Bill is survived by his wife, Lynn, and by his three daughters, Susan Blew (Dennis Puglisi) of Berkeley, California, Betsy Blew-Ochoa (Rogelio Ochoa) of Palos Heights, Illinois, and Jane Blew Healy (Michael Healy) of Blue Island, Illinois, and seven grandchildren, Gianmarco Puglisi, Jacoby Puglisi (Rachel McQueen), William Daniel Ochoa, Alexandra Ochoa Halleran (Ryan Halleran), William Healy, Kathleen Healy, and Genevieve Healy. He is also survived by his sister, Ann Blew McKenna (the late Thomas McKenna) of Lincoln, California, and his brother, John Blew (Joan Nevin Blew) of Chicago, Illinois.
The family is very grateful to the dedicated team of caregivers who have supported and enabled Bill to remain in comfort at home during the last two years of his life: Holly Logan, Yolanta Vizgirda, Christine Majewski, Jurgita Jurgonaitis and the team from Great Lakes Caring Hospice.
A memorial service will be held at the Church of the Transfiguration at 12219 S. 86th Avenue in Palos Park on Saturday, February 10, 2018 at 10:30 a.m.
In lieu of flowers, memorial donations may be made to the Friends of the Boundary Waters Wilderness at 401 N. Third Street, Suite 290, Minneapolis, MN 55401 or online at https://salsa4.salsalabs.com/o/51407/donate_page/main or to the charity of your choice.