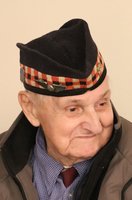 Jonathan Perrine Glasby III
Jonathan Perrine Glasby III, 96, of Elmhurst, formerly of Chevy Chase, Maryland, passed from this life Tuesday, January 16, 2018 at Lexington of Elmhurst. He was the beloved husband of the late Dorothy K. Glasby nee Joens, who passed away August 1, 2014.
Jonathan is the fond brother-in-law of Betty Joens. He is the loving uncle of Jeff (Ada) Joens, Thomas (Beth) Joens, Kathy (T) Reich, Bob (Laura) Joens, David (Mona) Joens and Karen (Carl) Johnson. Jonathan is the dear friend of the Kadow family.
Jonathan was a United States Army Air Force veteran serving in World War II. He was formerly employed as a geologist for the United States Geological Survey.
Visitation for Jonathan will be held Saturday, January 20, 2018 from 11:00 am until the time of service at 12:00 noon at the Krueger Funeral Home, 13050 S. Greenwood Ave., Blue Island. Interment will take place at First Ev. Lutheran Cemetery, Alsip.