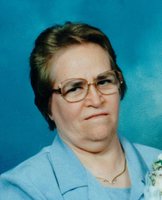 Esperanza R. Esparza
Esperanza Esparza nee Reyes, a Blue Island resident since 1966, passed from this life on Friday, January 12, 2018 at Metro South Hospital in Blue Island at the age of 80. Esperanza is the beloved wife of Francisco Esparza Sr., and the loving mother of Clemente (Salome) Esparza, Francisco (Jodean) Esparza Jr., Vidal Esparza, Gustavo (Christine) Esparza, Sandra Esparza and Claudia (Scott) Levins. She is the cherished grandmother of Michael Esparza, Tammy Wondaal, Marcy Esparza, Angela Esparza, Bradley Esparza, Clemente Esparza Jr., Nina Esparza, Chad Esparza, Trevor Levins, Justin Levins, Colin Levins and Sebastian Esparza. Esperanza is the proud great grandmother of 9 and the dear sister of Manuel Reyes, Anastacio Reyes and the late Salvador Reyes, Guadalupe Mauricio, Rogelia Rodriquez and Antonio Reyes.
Visitaion will be held Tuesday, January 16, from 3:00 pm to 8:00 pm. The funeral begins Wednesday 9:00 am with chapel prayers at Krueger Funeral Home, 13050 Greenwood Ave., Blue Island, then to St. Benedict Church, 2339 York St., Blue Island for mass at 10:00 am. Interment St. Benedict Cemetery in Crestwood.