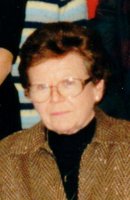 Joan Murphy
Joan Murphy, resident of Tinley Park since 1974, passed from this life Tuesday, January 9, 2018 at Palos Community Hospital in Palos Heights at the age of 86. Joan is the beloved sister of Rita (late Paul J. Sr.) Carey and the loving aunt of Joe (Jeni) Carey, Paul Jay Carey Jr., Michael Carey, Pam Carey, JoAnne Cappuccio and Barb (Jim) Kelly. She is the dear great aunt of Sara, Meg (Christian), Carey, Joe, Jamie, Shannon, Michael and Jack.
Joan formerly taught at Fulton Elementary School in District 146 and served as President of District's School Board. She also worked as a civilian employee of the US Air Force, teaching for elementary schools in Japan, Germany and England.
Visitation will be held Monday 9:00 am until the time of the funeral mass at 10:00 am at St. George Catholic Church, 6707 W. 175th St., Tinley Park. Cremation will follow but is private.