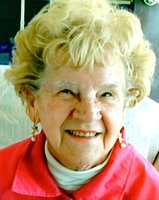 Violet Kogut
Violet Kogut nee Hujda, 101, of Blue Island. She was the beloved wife of the late Walter Kogut. The couple were united in marriage in 1934. Violet is the loving mother of James (Arlene) Kogut, Joyce (late Loren) Walling and the late Dr. Paul Kogut. She is the proud grandmother of Joan (Jim) Grupka, Steven Walling, Lisa Young, Denise (Jeff) Haller and Joshua Kogut, the adored great grandmother of Wendy, Molly, Brittany, Daniella, Jessica, Ryan, Steven, Amanda, McKenna and Nicholas and the cherished great great grandmother of John and Aubrey. Violet is the dear sister of Emigene Lahucik and the late Benjamin Hujda, Emily Stosiek, Mary Jo Zmuda, Cecilia Wilickas and Albin Hujda.
Violet loved spending time and celebrating with her family and friends, she was deeply loved and will be greatly missed. Violet was a faithful member St. Benedict Parish where she was a member of the Womens Club and lifetime volunteer. In 2010 she was recognized as Catholic Woman of Distinction. Violet was formerly employed by the Malanco Company of Blue Island and US Railway. During WWII, she also worked for an aircraft company. However, her fist job was at the age of fourteen working for Libby's Foods on Western Avenue, where she twisted onion tops and removed bad tomatoes from the conveyer! Violet was a gifted seamstress and enjoyed making curtains, couch covers and her granddaughter's prom dress. She also loved to travel and visited Japan, China, Australia and Europe, most times traveling with her sister Emigene.
Visitation Wednesday, December 20, from 3:00 pm to 9:00 pm. Funeral services begin Thursday morning with chapel prayers at 9:00 am at Krueger Funeral Home, 13050 Greenwood Ave., Blue Island, then to St. Benedict Church, 2339 York St., Blue Island for mass at 10:00 am. Cremation is private.
In lieu of flowers, memorial donations to Paralyzed Veterans of America, www.pva.org or St. Jude Children's Hospital www.stjude.org, greatly appreciated.