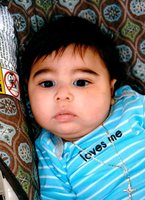 Cristian Elias Flores
Cristian Elias Flores of Blue Island, beloved son of Jorge Flores and Maria Moreno, loving brother of Evelyn and Cinthia Flores, cherished grandson of Irma Quirarte, Rosalve Mercado and Rafael Moreno, dearest great grandson of Ramon and Beatrice Quirarte and Rogelia Mercado, adored Godson of Sonia and Sergio Quirarte, survived by many dear aunts and uncles, great aunts, great uncles and cousins.
Visitation Wednesday, December 13, from 8:30 am until time of chapel prayers at 10:00 am at the Krueger Funeral Home, 13050 Greenwood Ave., Blue Island then to St. Donatus Church, 1939 Union St., Blue Island for mass at 11:00 am. Cremation private.