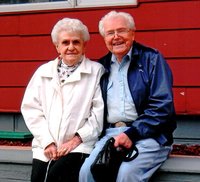 Stig & LaVila Nordstrom
A Celebration of Their Lives will be held Saturday, June 2, 2018 at 11:00 am at First Ev. Lutheran Church, Grove and Ann Streets in Blue Island. Burial of ashes will follow at First Ev. Lutheran Cemetery in Alsip.
Stig H. Nordstrom, 95 passed from this life on March 6, 2017 and his wife, LaVila D. (nee Jebsen) Nordstrom. 93, passed away on September 26, 2017, both in Blue Island, IL.
Stig was born September 17, 1921 in Linkoping, Sweden to Josef and Eva (nee Nilsson) Nordstrom. He resided in Blue Island for seventy years. Stig was a veteran of the US Army Air Corps, serving in the South Pacific during WWII. He was a Pullman Conductor for over twenty years and later retired as an employee of Clark Oil Refinery. Stig was a member of the V.F.W. and was a former member of the Blue Island Kiwanis. He enjoyed golf, bridge and sports.
LaVila was born July 5, 1924 in Blue Island to Bernhardt and Augusta (nee Winterfeldt) Jebsen. LaVila was a lifelong resident of Blue Island. During WWII, she served with the Office of Price Administration (OPA) in the US government. She later worked as a bookkeeper in the office of Dr. Prestipino, a Blue Island Physician. For more than 20 years, LaVila was a volunteer with the St. Francis Hospital Auxiliary, most recently in the gift shop. She was an avid quilter and she enjoyed crocheting and collecting Gnomes.
Stig and LaVila were married November 9, 1946 at First Evangelical Lutheran Church. They remained faithful members of the church participating in many church activities. Stig and LaVila were the beloved parents of two sons, Greg (Ann Marie) and Gary Nordstrom who both preceded them in death. They were also proud grandparents of Andy Nordstrom, Erik (Sheryl) Nordstrom, Gus (Alicia) Nordstrom and Zeke Nordstrom. One grandson, Charlie Nordstrom preceded them in death. They were also the adored great grandparents of Caitlyn, Ashlyn and Cadence. They leave numerous nieces, nephews, great nieces, great nephews, cousins and friends to cherish their memories. In addition to his parents, sons, and grandson, Stig was preceded in death by his two brothers, Soren Nordstrom and Christopher Nordstrom. LaVila was preceded in death by Stig, her parents, sons, grandson and her siblings Elmer Jebsen, Esther Feddeler, Ralph Jebsen, Frank Jebsen, Ruth Rickhoff, Marie Thompson, and Harry Jebsen.
Stig and LaVila were truly soulmates and they loved doing things together, especially traveling, listening to music and dancing. They enjoyed nothing more than being with family and friends and living life to its fullest. The year 2016 was a wonderful year for them. Not only did they celebrate their 70th Wedding Anniversary, but they were able to witness their beloved Cubs win the World Series!